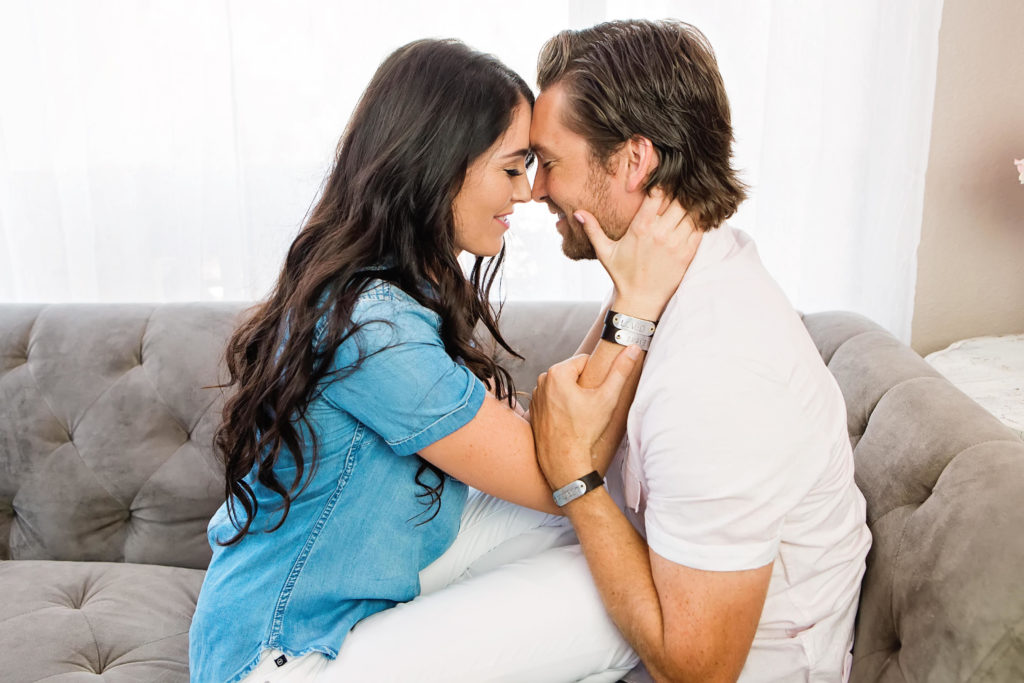 My Story
My name is Mike Frazier.
I've been married since 2005 to the wonderful woman in the picture and we have five children.
I'm an active member of The Church of Jesus Christ of Latter-day Saints, a Christian church.
This picture is a good representation of what our marriage is like now.
But for many years, it was a nightmare.
I often felt like whatever I did, it wasn't enough for her.
I worked hard to go through medical school, residency and private practice to provide for my family.
I did my best to be a good father for my children.
I tried to understand her, to serve her, to help her, to be there for her.
But, I never really felt appreciated for what I did.
I felt shut out. Like she didn't really care.
I would want to share things with her, and would try sometimes, but I didn't get far.
I didn't feel like she was listening.
I felt like I was being used as a meal ticket and sometimes a babysitter and a servant around the house. That I was only good for that to her.
Our sex life was awful. She would never initiate, and would usually shut me down if I initiated.
When we did have sex, it wasn't all that great because I felt like I was taking something from her. Like I had finally worn her down enough to give in.
At one point, I'm embarrassed to say, we went over a year with zero sex.
I felt like I got a lot more attention from my fellow female students, residents, doctors and nurses.
I would spend lots of time fantasizing and imagining how different…
and better…
life would be if I could be with one of them, or some girl from my past.
Of course, I felt guilty about this. I knew that wasn't right.
But I didn't know what else to do.
Sometimes I would go to my car at night and just scream because I felt like I couldn't take it anymore.
I didn't feel like I could really talk to anyone about all this.
I had to act like things were fine at work, at church, and with my family.
I distanced myself from friends and family because I didn't want anyone to know what was going on.
It was a very lonely, stressful, sad and anxious time.
I thought about divorce plenty of times. It seemed like such an easy way out.
I went back and forth, but decided to do my best to make it work.
I'm not saying divorce is never an option for anyone.
But, I decided that for me, I owed it to myself, my kids and to God to do my best to make it work.
I spent many years learning what it takes to build a great marriage.
I was fortunate to have specialized in psychiatry, where I learned the most effective tools and techniques to manage my own thoughts and emotions from some of the best teachers on the planet.
I also had the opportunity to practice teaching these skills to hundreds, maybe thousands of people throughout my training and practice.
They were able to transform their lives and marriages by applying these principles.
I read about a hundred of books on relationships, marriage, sexuality, mindset, emotional intelligence, and personal development.
I applied what I learned from all these sources to change myself into a more confident, strong and loving man.
And, counterintuitively, I stopped taking responsibility for my wife's emotions and happiness.
I focused on building my own spiritual, mental, emotional, physical and sexual strength.
As I did this, something amazing happened.
My marriage started to transform.
I didn't feel like I was being used or mistreated in my marriage.
I felt like I had been let out of prison.
I started to experience deep connection with my wife as we shared the most important parts of ourselves with each other.
Our sex life became a way to share an electric, deep connection (something I never thought possible due to her history of serious sexual abuse).
These relationship changes extended to my kids.
I didn't get angry as easily. I spent more quality time with them. I saw them as a joy instead of a nuisance.
Work got much easier, as I wasn't distracted by all the problems at home. I was more productive and did a much better job with my clients.
I felt calm and confident again and reconnected with friends at work and church.
Those changes have continued to grow over time to where now I can hardly believe how great my marriage is.
And, as I use the right principles, it will continue to improve over time.
I learned that a lot of the "traditional wisdom" about marriage is wrong.
Focusing on "communication," for example, or "validating feelings" works a little, but won't produce lasting change.
Focusing just on her pleasure for sex also won't produce the amazing level of intimacy and connection that sex can offer.
"Happy wife, happy life" sounds pretty good…
until you're running yourself ragged trying to please her and finally win her approval and appreciation.
When I was operating that way, I would stuff all my anger and frustration under a fake smile of "ok honey" until I would finally explode in anger towards her (and sometimes the kids).
I had to lose these wrong ideas (that most couples therapists teach) and embrace what really works.
I used to lay awake at night and think "I don't know if I can do this anymore."
Now I lay awake at night and think "I can't believe my marriage is this amazing."
I want that for you too!
And it is possible! Even after infidelity or years of low passion.
Transforming a marriage takes 3 things:
1. The absolute commitment to do it
2. The right tools
3. Massive action
If you're ready to make the absolute commitment, and will take massive action, I can teach you the tools.
It's a simple process to transform your marriage. Simple, but not easy.
If you will follow the steps, I can guarantee that you will be a person that you, your spouse and your children can be proud of.
You will be strong physically, mentally, emotionally, spiritually and sexually.
This new strength will feel so good to you. You'll have more peace than you've had in years.
And, as you build strength and confidence in these areas, you will become more attractive to each other and be able to build connection and trust again.
I'll also teach you the communication and conflict management skills that will help you turn conflict into connection
Schedule Your Marriage Assessment Today
Click "get my assessment" or choose your time to schedule your 100% free, 100% confidential Marriage Assessment
In our 30 minute session, we will:
-Identify the root cause of your marriage problems
-Create a clear picture of the marriage that you want
-Determine the best next steps to create passion, joy and real intimacy in your marriage… even if you're the only one who wants to work on it
There is no obligation for this free Marriage Assessment.
Whether we work together or not after, my goal is for this to be the best 30 minutes you have ever spent on your marriage.
I'll talk to you soon!
Mike
CLICK HERE to schedule your call
or use this schedule:
…and I'll see you soon!
Mike
P.S. If you'd like to join our FREE facebook group with over 1,000 other men like yourself, where you can get more strategies and tools to improve the intimacy and build strength in your marriage, CLICK HERE to join.
Training
Brigham Young University – Magna Cum Laude – Bacehlor's Degree – Neuroscience
ULCA medical school – MD Degree
UC Irvine – Psychiatry Residency
PTSD fellowship – Long Beach VA
Citations
Redbook 1 – 34 Alternatives to Couples Therapy That Will Strengthen Your Relationship
2 – 40 Signs You Might be Self-Sabotaging Your Relationship
3 – 33 Ways to Battle Jealousy In Your Relationship
U.S. News and World Report 1 – 6 Affordable Mental Health Care Service Options
2 – How introverts can win at negotiating retail purchases
Ask Men – Stimulate Her With 12 "Moan Zones"
Men's Journal – Sex Tips For Parents