Helping You Create Joy, Passion and Intimacy in Your Marriage… Even If You're The Only One Who Wants to Work On It
Have passion, intimacy and communication LEFT your marriage?
Get FREE resources to bring them back!
Do you wish there was more passion in your marriage?
Has it been weeks, months, or even years since you were intimate?
Do you find yourself alternating between doing everything your spouse wants to get more appreciation and intimacy, then blowing up when it doesn't work?
Do you feel like you are doing everything you can for your spouse, but it's just never good enough?
Do you feel like you're being used in your marriage for a paycheck or a babysitter?
Do you feel like you get respect everywhere but at home?
Do you feel like you've succeeded in so many other places, but can't seem to get the success you want in marriage?
Does it seem like you're getting all of the responsibilities of marriage… but none of the benefits?
Well, if any of this sounds like you, then there is good news.
No matter how bad your marriage is right now…
No matter how long it's been since you've had real intimacy…
No matter if you've thought about straying, or even if you have strayed…
No matter if your spouse is threatening to divorce you, or has started the divorce process…
You can save your marriage and bring the passion back.
My name is Mike Frazier.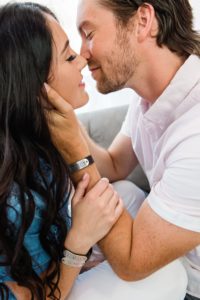 I am a marriage coach who specializes in helping you create joy, passion and real intimacy in your marriage… even if you're the only one who wants to work on it.
I've been cited in Redbook, Men's Journal, AskMen, and The U.S. News and World Report. (citations here).
I went from having a passionless and painful marriage…
To having more passion, connection and intimacy than I ever dreamed possible.
You can read more of my story here.
And, I've helped other men and couples do the same. You can see some of their stories here.

What's the secret to creating that kind of connection?
To having passion and intimacy again?
I'll tell you…
It's building strength.
A truly strong marriage is built on two strong people.
That strength is spiritual, mental, emotional, physical and sexual.
As you become TRULY strong in these areas, you will see your marriage EXPLODE to new levels of joy, passion and intimacy.
That's what helped me bring the passion back to my marriage, what has helped others do the same for their marriage…
and what will help YOU bring the passion back to your marriage.
Schedule Your Marriage Assessment Today
Click "get my assessment" or choose your time to schedule your 100% free, 100% confidential Marriage Assessment
In our 30 minute session, we will:
-Identify the root cause of your marriage problems
-Create a clear picture of the marriage that you want
-Determine the best next steps to create passion, joy and real intimacy in your marriage… even if you're the only one who wants to work on it
There is no obligation for this free Marriage Assessment.
Whether we work together or not after, my goal is for this to be the best 30 minutes you have ever spent on your marriage.
I'll talk to you soon!
Mike
CLICK HERE to schedule your call
or use this schedule:
…and I'll see you soon!
Mike
P.S. If you'd like to join our FREE facebook group with over 1,000 other men like yourself, where you can get more strategies and tools to improve the intimacy and build strength in your marriage, CLICK HERE to join.